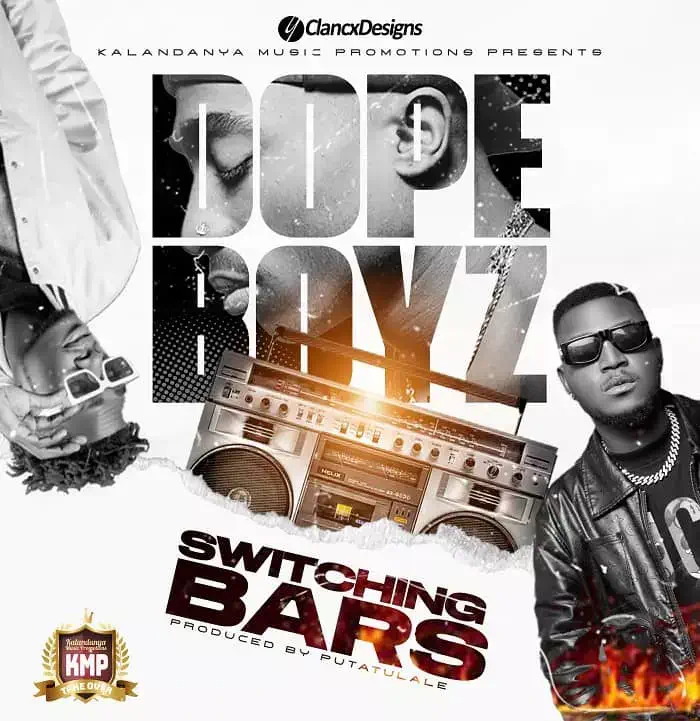 Dope Boys Switching Bars MP3 Download
Taking a cut above as fans expect, Dope Boys, trade bars with each other on an explosive freestyle hip-hop record dubbed 'Switching Bars 2pac Cover'. Download Dope Boys Switching Bars 2Pac Cover MP3 Download Dope Boys Songs
Typically, the most recent scorching single Switching Bars by Dope Boys has been nailed with the duo's cracks giving it a contentious Hit Em Up touch by Tupac Shakur that most fans regard with respect.
Kalandanya Music Promotions own, "Dope Boys" is a Zambian Music duo with lead performers being Bemba rappers, Smart Kayz Altezza and Rock Geezy.
The duo immensely shot to prominence after their debut release of the blockbuster hit song, "Oya Mpu" featuring May C.
Their earlier works are still receiving a great deal of airplay across the nation, and this time around, Switching Bars by Dope Boys 2Pace Cover Song is a new venture.
However, as we provide you with the latest Switching Bars by Dope Boys MP3 Download, this enhanced Switching Bars 2Pac Song has been enriched with searing bars to keep you engaged.
In providing fans with a fresh gripping vibe, Dope Boys has pooled efforts with Mr. Putatulale and debuted "Switching Bars MP3 Download" with us.
Listen and Download Switching Bars 2pac Cover by Y Dope Boys MP3 Below: