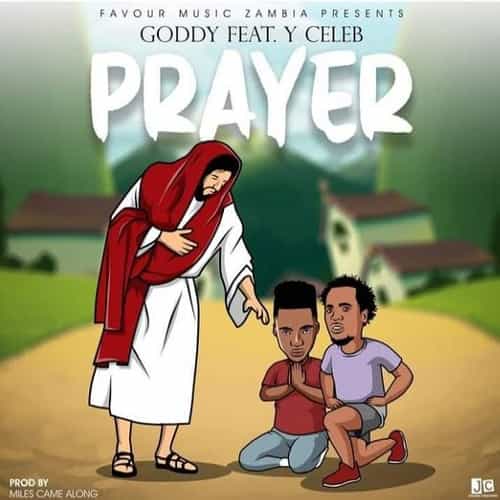 Goddy Zambia ft Y Celeb PRAYER MP3 Download
Springing up as a new Gospel Wave from Goddy Zambia, he eases the strain by dropping another super 2023 song for the brand-new smash hit "PRAYER (Nimveleni Ayesu Yesu)," featuring Y Celeb Super Government Worldwide.
Based on a true story, the two musical titans grace the radio and the music community with a powerful and uplifting song, "PRAYER". And we can attest that the team behind Goddy Zambia ft Y Celeb PRAYER MP3 Download achieved close to perfection in terms of aesthetics, from Miles Came Along's production to the fantastic vocal delivery and gripping lyrics.
This inspiring song reminds us that no matter what challenges we face in life, we can always turn to Jesus for strength and guidance. With Goddy's soulful chorus ("Nimveleni Ayesu Yesu") and Y Celeb's heartfelt verse, "Prayer" is a powerful reminder of the importance of faith and the power of prayer. So take a moment to listen and let the music lift your spirits and renew your faith!
For your listening pleasure, ladies and gentlemen, we present Prayer ft Y Celeb MP3 Download, exemplifying the kind of song delivery and performance that has kept Goddy as Real for over time. This new song comes into sight following his impressive appearance on ONDOKA featuring Kenyan artist, K.O Kenya.
Related songs:
Goddy Zambia ft K.O Kenya – ONDOKA
Goddy Zambia ft. Lanji – Njala
Goddy Zambia ft. Macky 2 – Inu Mayi
Goddy Zambia ft. Chef 187 – Mwambo
Goddy Zambia ft. Towela Kaira – Nifuna Weo
Goddy Zambia ft. Bobby East – Salome
Goddy ft. Neo Slayer – It Could've Been Better
Goddy Zambia ft. T-Low – Fine Girl
Goddy Zambia ft. Slap Dee – Ndikangana Nawo
This beautiful Gospel song, Goddy Zambia ft Y Celeb PRAYER MP3 Download, is really destined to be at the top of the rankings. It is predicted to top the nation's music charts and get a ton of airtime on TV and Radio as well as other streaming services. The team responsible for it achieved practically aesthetic perfection in all aspects of production, vocal delivery, mixing, and mastering.
Fans of the dazzling two artist also enjoy their originality, never-boring music, which perpetually uplifts the atmosphere and keeps listeners alert. In order to give us a unique experience, "PRAYER MP3 Download" is completely designed to be one of those tracks that you can't stand to vibe to.
Fans can enjoy the newest musical titan's work by downloading the MP3 version. Thanks to the incredibly charming Goddy ft Y Celeb PRAYER MP3 Download, which features intriguing lyrics, captivating vocals, and hypnotizing subtleties, you'll be riveted to your seat in no time.
Cop it below:
NEW ZAMBIAN MUSIC 2023 MP3 DOWNLOAD
See: Having an Affair with a Married Woman? Here's the thing
See: How to Tell a Karmic Relationship
Learn: 10 Ways to Detoxify your Body Naturally
Learn: How to Boost your Immune System
Goddy ft Y Celeb PRAYER MP3 Download
Goddy Zambia Songs MP3 Download
Prayer ft Y Celeb MP3 Download